Cypress Furniture Cleaning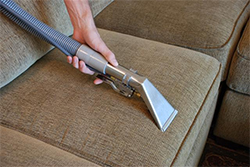 Did you know that most furniture manufactures recommend you clean your upholstered fabric every year or two? This is because dust particles can settle on your furniture just like the keyboard on your computer. Vacuuming helps to be sure, but many times this dust gets stuck to the fabric because of oils in our skin that attracts itself to your furniture.
As we sit on and use our furniture over time this becomes abrasive and can have a damaging effect on the fibers of our furniture. If its been a few years since your upholstered fabric & fine wool rugs has been professionally cared for, give us a call today. Let our highly trained technicians bring back the beauty of your furniture with a professional deep cleaning.
Our technicians are trained to care for all types of fabrics and investment quality wool and silk rugs. When a cat or dog urinates on carpet the urine smell and sometimes even the stain cannot be removed by simply cleaning the carpet. This is because once the urine evaporates under the backing of the carpet what stays behind are sticky crystallized uric acid salts. These uric salts provide a food source for bad bacteria to feed on. As the bacteria feed on the uric acid salts they release ammonia gases. This is what we smell and associate with cat or dog urine. You may notice this smell more on a rainy or humid day. Let us come in and prevent these issues and make sure that all your furniture remains clean and your family remains healthy.
Furniture Cleaning Services Cypress TX
Keep in mind your animal's sense of smell is more acute so he / she can detect it even if you don't. This reinforces the animal's behavior and they continue to have "accidents". Be aware as you inspect your furniture or carpet for pet urine issues your little guy or gal may have done his / her business in more areas than may be noticeable. Some pet urine may not leave a stain. At our carpet and furniture cleaning company we have products like UPT and live bacterial enzymes to effectively liquefy the uric acid salts where they can be extracted from your furnishing.
The live bacteria is applied after the cleaning to kill any remaining "bad" bacteria. These products are non toxic, safe for children and pets and are guaranteed to remove most urine stains and smells. This urine treatment will leave your home smelling wonderful! Some urine stains, yellow in color may not come out of your carpet and or furniture. We will do everything humanly possible to achieve successful results. This includes hand extraction techniques with urine claw on stains.
Our professional services can meet all your Cypress upholstery cleaning needs. In most cases we can come to your home and clean your upholstery without removing it from the premises. In other cases our upholstery cleaning Cypress technicians may offer free pickup or delivery. In either case, we use the most gentle, effective upholstery cleaners to help clean and protect your furniture. We have experience in cleaning natural and synthetic fibers and even clean leather and velour. In some cases our upholstery cleaning Cypress technicians dry-clean the upholstery but in every case we take great care to ensure the quality of the fabric is maintained.
Our safe upholstery cleaning in Cypress has professionals that know how to clean all kinds of stains and we have experience with removing tough crayon and lipstick from white and tan furniture. If you like our cleaning, you should also try our sealant! After the application of our sealant, most stubborn stains can be easily removed, resulting in beautiful furniture year round! Call us for more details about our upholstery cleaning services of Cypress, Texas!
Furniture Cleaning Service Areas
An upholstery cleaning can add years of life to your furniture by bringing back the original coloring and removing dirt or harsh particles that cause fiber damage. We have gentle, effective furniture cleaning agents for just about any material, including synthetic fabrics, cotton and cotton blends, Haitian cotton, velvet, velour, and leather. We even dry-clean finer fabrics and can clean most upholstery right in your home! To eliminate damaging particles, our company a specially-formulated upholstery cleaning solution and gentle, but effective cleaning equipment to lift dirt and break up stains. Then, we wash all of the debris away from your upholstery. Call us now!